…or do they?! Recently I have been getting quite a few of these DVD transfer requests, with the latest email from Darren and Dawn to land in my inbox this week: "15 years ago you very kindly filmed our wedding…not sure you will remember…We have two daughters, 12 and 7, and want to show them our wedding video." Yes, I do remember, not least for the fact that GMTV had chosen to feature Dawn as their 'June Bride' that year and to say I had to compete with their camera crews would be an understatement. Who could forget the sight of the TV cameraman literally hanging over the vicar's shoulder during the vows and ring exchange, complete with boom mic, some industrial strength broadcast light, dougal hovering fetchingly between them and sound man right by his side. So yes, I remember.
Which made me think – I have heard this so many times now: 'We want to show our children our wedding video.' What a wonderful thing to be able to do – I would really love to have seen my parents' wedding film or video and hear them say their vows but have to make do with the one silent photo I have. And, even if I say so myself, how gorgeous does my mother look?!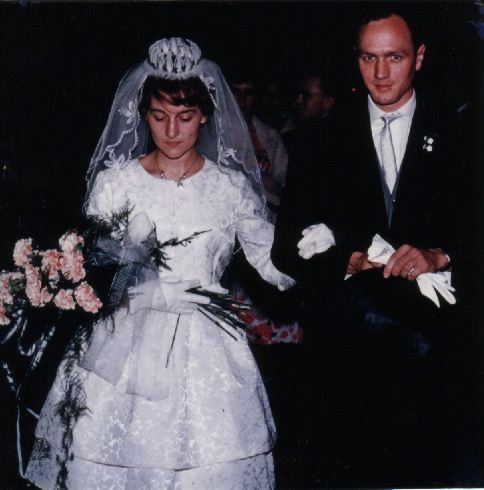 And even though, sadly, their marriage didn't last I love this image all the more, as there was one time when my parents did love each other and this is the proof. I will never hear my father's voice again – he died seven years ago and the photo doesn't speak. My mother did go on to become one of the early pioneer adopters of a super 8 cine camera and the earliest footage of myself is me reciting a Christmas poem at the age of about three! The old Kodak currently happily resides in my loft and may yet see the light of day again sometime…watch this space!
You would be forgiven if you have fallen prey to the old misconception that wedding videos do not get watched…but I have lost count of the number of emails I've had from my couples of ten years or more ago, telling me how they still watch their film regularly or how their children love watching it. Only thing is, they have a hard time explaining to their small children why they are not in it!
Just ask yourself – if you had the chance to see a film of your grandparents getting married, would you want to watch it? And here, just because we can!, is a picture of my husband's parents on their wedding day. Yes, it's wonderful to have, not least because their marriage also did not stand the test of time, but would I love to see a video of any of our parents' weddings if I could? You bet I would!
________________________________________________________________________________________ 
Now let me take you back twelve years or so and hand you over to some of my lovely brides and grooms from …ermh…some time ago:
"We just wanted to say a huge thank-you for our wedding DVD we are totally overwhelmed with it, the most beautifully edited DVD I have ever seen with memories that will be cherished forever. You have exceeded our expectations & beyond, our DVD is a masterpiece which has brought so much happiness to us both and all our family. We all had a good old cry whilst watching it and I can't wait to show Laila her mummy & daddy getting married when she is a little older.
Thank-you for capturing our special day so beautifully you should be made a mandatory part of everyone's wedding I think you're just as important as the dress! X"
ONE YEAR ON: "We still watch our DVD often and honest to God we are not bored of it in the slightest, the best purchase we have ever made!"
Rozina + Vinny, 13 FEBRUARY 2010, GREAT FOSTERS, SURREY
________________________________________________________________________________________
THREE YEARS ON: "I watched our wedding DVD again last night, it's nearly 3 years ago since the wedding and it still brings me so much joy to watch.  I never get bored of watching it and still notice new things every time I see it.  I often get homesick but it's a perfect way to feel close to all my family and realize how blessed I am having a special family, wedding day & husband.  Ian walked through the door after being away on business (as I was half way through) he insisted he watch the rest with me.  Every time we watch it, it brings us even closer. I now look forward to sharing it with our children one day………
I just wanted to let you know after 3 years it's still providing us so much happiness. Thank you!"
LOUISE + IAN, 9 SEPTEMBER 2005, GREAT FOSTERS, SURREY
________________________________________________________________________________________
FIVE YEARS ON: "It is a crime to call our wedding video just a 'wedding video'. It's a work of art, and so different to anything we had seen before. Ines, you are a very talented lady. We still watch ourselves on screen and wonder how you managed to make us look so classy! We were married five years ago and at one point considered not having a video shot at all. What a mistake that would have been! Each time we watch the dvd we are transported back to that magical day and are able to re-live each moment."
MARILANDA + ROB, 30 DECEMBER 2003, DOWN HALL COUNTRY PARK HOTEL
________________________________________________________________________________________
FIVE YEARS ON:  "Hi Ines, Thanks for the fantastic wedding DVD, still to this day five years on we regularly watch it! such a masterpiece. You captured our day perfectly and can't thank you more. I was reluctant to have one until I saw your work and I was converted. Finally wedding DVD's you can watch again and again!. My kids love watching too!! thanks and keep up the good work. Lisa xxx"
EIGHT YEARS ON: "I often check out your web page to see what you're up too. Your work as always is fantastic. We still watch our wedding DVD as does my dad almost weekly. He lives it."
LISA + STEVE, 12 JUNE 2004, LOUGHBOROUGH
________________________________________________________________________________________
SEVEN YEARS ON: "Hi Ines, you did our wedding video back in March 2002 at Ashdown Park Hotel. Also you have recently converted our video to DVD and our son and daughter absolutely love watching it, but always ask where they are in it!! We still love the video, if only to look back at how fresh faced we looked!!!!!!!!!!!"
ANDREW + COURTNEY, 2 MARCH 2002, ASHDOWN PARK
________________________________________________________________________________________
NINE YEARS ON: "Well, 9 years on and you would be forgiven for thinking that our wedding video that you shot was now out of date – but NO! Everytime we watch it we are just blown away with how beautiful it is. Your combination of style and sophistication really help to make the video special and your artistic flair really shines through. The service you offer is both professional and personable – what more could a bride ask for! I'm so grateful that you made our day memorable for us and wouldn't hesitate to recommend anyone to use you. Thanks again."
TEN YEARS ON: "Hey! Just thought I'd let you know that it's been 10 years this week since our wonderful wedding day  Still very happy and still very much in love. Of course, still loving our wedding video too!! …It's so true. There are a few things that I would never change about my decisions for the big day; the video – the photos – and my dress…oh and the groom of course (ha ha!) …Totally timeless & worth every penny. I longingly look at my figure and wonder where it all went wrong."
VICTORIA + NORMAN, 12 MAY 2000, WOOBURN GREEN
________________________________________________________________________________________
SEVEN YEARS ON: "Ines!!!! Hello there!!! Well, everybody says how fantastic your video skills are, so I will say that I chose you to do our wedding video (Sep 2001) because I could see your style was eons ahead of any others and as far away from anything tacky as possible! Your advice about music to accompany the images and your incredible flair made sure I knew we'd made the right choice! We now have two daughters who marvel at watching Mummy & Daddy in our posh frocks! Thanks so much. If anyone is in any doubt whether to book Ines for their wedding…don't be, you'll love it!"
KERRIE + NEIL, 15 SEPTEMBER 2001, THE HAUTBOY, OCKHAM