Hi there, meet Kim and Adam. Kim and Adam got married on an unexpectedly sunny Monday in April – despite it being the wettest April on record they managed to pull it off. Kim is originally a Surrey girl but after meeting Adam in a backpackers bar in Airlie Beach, Australia, back in 2007 she soon moved to the US Virgin Islands to be with him. I had been trying very hard to get them to have the wedding there since I've never been but Kim wanted a fairytale English wedding. Never mind, at least Kim got her wish…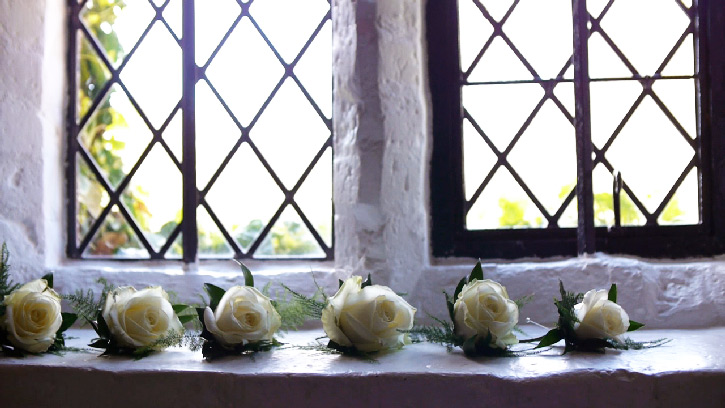 They chose the date – Monday, 30th April -to honour Kim's Grandad's birthday as he had recently unexpectedly passed away.
Friends from all over the world flew in for their wedding, including the Caribbean, Australia, South Korea, Belgium, France and the United States. One of Adam's groomsmen missed the wedding because his US passport had expired. He was stranded in New York so Gene stepped in last minute. As well as somehow nabbing the only hot sunny day in the wettest April on record they also managed to pull off the record for the largest bar tab!!
Kim's dress is from Kleinfeld Bridal, New York. Her sister Natalie flew over to help pick it out, and Kim's mum flew over later for the fittings. Photography for the day was provided by the very lovely Neil Bailey who is no stranger at the venue, Leez Priory. I have filmed there a few times myself and it is a really rather nice venue. Here are the highlights…