No, not the long-awaited sequel to 'Seven Brides for Seven Brothers', it's the wedding of Yeliz and Ossie in August this year. When Yeliz married Ossie she gained serious re-enforcements in the form of Ossie's five sisters. Poor Ossie must have definitely felt outnumbered in the run up to his wedding.
Although he seemed to be doing all right on the day, allegedly he very nearly didn't make it to the wedding…the whole wedding party had gone out to dinner the night before and as everyone was leaving, the ushers and brothers-in-law stopped Ossie and had a lock-in! Yeliz still doesn't know how or what time he finally made it back, she's just glad he made it to the gazebo in time…and in one piece!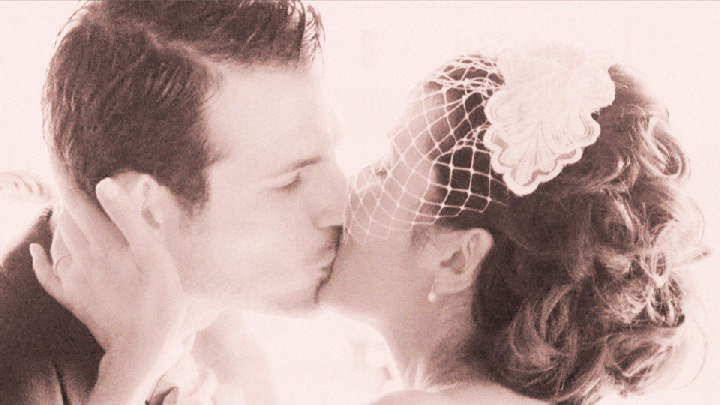 Yeliz and I actually 'met' several years ago when she was my advertising exec for the Bridal magazine I used to advertise in. She always said that when she got married she wanted me to film her day. So, when Ossie proposed to her in December 2010 true to her word, I got the call.
Yeliz and Ossie had an outdoor wedding at Greenwoods Hotel, a beautiful 17th Century, Grade II listed manor house set in extensive landscaped gardens located in the rural village of Stock in Essex. It was a sunny day, initially, and we got through the ceremony and most of the reception when, eventually, the heavens opened. And I don't mean just a little bit. Within seconds, it was bucketing down, everyone fled inside, but luckily it was nearly time for the wedding breakfast anyway.
Yeliz and Ossie met on holiday in Cyprus seven and a half years ago and after Ossie's proposal they got down to planning the wedding. All was set and booked for 7 August 2011 when little Amelia May decided she wanted to be in on the party – yep, Yeliz was pregnant and Amelia May was due 8 weeks before the wedding! Panic stations would probably be putting it mildly but I have to say Yeliz did absolutely brilliantly. She looked completely stunning and you would never in a million years have guessed she'd practically just given birth.
As a bonus, Ossie ended up with Prada shoes which Amelia had bought him for Fathers Day and Yeliz wore the most fabulous navy Christian Louboutin slingbacks – jealous, moi?! – which Ossie had bought her as an engagement present. Yeliz' wedding dress, all her bridesmaids' dresses, Amelia's dress and MOB's dress were ALL made by Yeliz' amazing Mum, while Ossie's waistcoat, ushers' and Dads' waistcoats were ALL made by Ossie's no less amazing Mum. What a seriously talented family!

With Ossie one half and Yeliz one hundred percent Turkish-Cypriot there was an interesting mélange of cultures and not to say mesmerizing music, two of Yeliz' aunts had come over all the way from Cyprus, with all the ladies putting on an incredible dance performance during the Turkish set. These ladies know how to move!! – including Yeliz who also rocked a mean thriller – a relic from her stage school days and always a hit with the kids! Shame we ran out of time for the belly dancing in the end.
Well, all I can say is I'm glad Yeliz kept her word and I got to film her fabulous day. With her being absolutely beautiful and Ossie equally easy on the eye it really wasn't hard to make anyone look good, it was great to meet such a wonderful bunch of warm and interesting people and I thoroughly enjoyed the experience.
I leave you with the most wonderful and heartfelt quote from Ossie's speech:
"I've been waiting a long time for this day…when you agreed to marry me I was so happy. In fact, I thought I couldn't possibly be any happier. And then you gave us our beautiful daughter, Amelia May, and I realised pretty quickly that there is no boundaries to how happy you can make me…You rescued me from a life that wasn't going anywhere fast and made me the happiest man alive."
And, finally, please enjoy their Wedding Highlights:
Photographer Joshua Lawrence
Cake Purita Hyam
Bridal Shoes Christian Louboutin
Groom's Shoes Prada
Flowers Stacey Stevens