One of the more memorable days out this year was Chelsey and Paul's wedding at St Peter and St Paul's Church in Dinton. Even though we have filmed at Notley Abbey quite a few times now we had never filmed at St Peter and St Paul's Church before. The foundations to this church were laid in 1209 and its font has been in constant use for 800 years. The original seating consisted of one stone bench, part of which is still to be seen along the north wall. Luckily for Chelsey and Paul's guests, they have since added to that.
Chelsey and the girls were getting ready at nearby Oxfordshire Hotel and Chelsey was hoping to get to the church in her Dad's open top Bentley (which he races). Unfortunately, it was a very wet day so it was touch and go for a long time but in the end they just made it (with the help of a few umbrellas).
Then  it was on to Notley Abbey for the reception, which featured acoustic guitar music by the fabulous Aaron Carter, gorgeous flowers by Joanna Carter, a quite brilliant cake by Hundreds'n'Thousands and lots of lovely cupcakes   🙂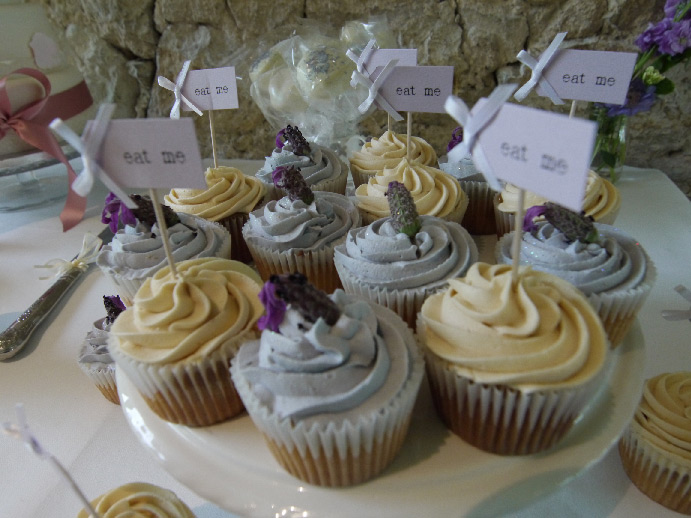 The first dance was chosen by Paul and a complete surprise for Chelsey; it turned out to be 'You and Me' by the Wannadies, covered energetically by the MIB Band. Chelsey looked stunning all day in her Benjamin Roberts dress and Jimmy Choos and all was captured for posterity by the capable lenses of Chris Giles. We had never met Chris before that day but it seems I have been seriously missing out, Chris is LOVELY with a capital L…and his photos aren't bad, either   😉  Check out his blog of Chelsey and Paul's 'Slightly Rainy Big Day'…
And here is Chelsey to tell you how the two of them got together in the first place:
"We met in 2005 through mutual friends. Paul had just got back from a years traveling in Oz, and I knew one of the friends he had gone with so I went along on their welcome home night out. For the first two years I lived in Manchester and we spent a lot of time on the M6 backwards and forwards to see each other.
He proposed in June 2010. His best friend invited us to a weekend at a house in Somerset, and then "got delayed" and couldn't make it that night so it was just me and Paul there. Paul made a picnic, played some music and proposed in the garden. Very unexpected!
The next day we went for a walk and when we got back, all of our closest friends were waiting to surprise me. It was a brilliant weekend, and proves that Paul can actually plan things when he puts his mind to it….
'The Bentley' – my dad and his best friend 'Uncle Mick' have always had classic cars and it was decided when I was very little that when I got married they would take me in the Bentley. Unfortunately the Bentley doesn't have a roof, so we had four umbrellas that day!!"
So, finally, Chelsey and Paul's wedding highlights: