Civil Partnership – Neil & Jan – Video by VIS-à-VIDEO
On Sunday Ines from Vis-à-Video headed off around the M25 to junction 25 to film her very first Civil Partnership at the De Vere run Theobalds Park. Set in 55 rolling acres of parkland, this peaceful Georgian mansion has the looks to inspire you for your wedding video in the future.
It would be worth book marking De Vere's web site for future reference if you are looking for a Wedding Venue in Hertfordshire.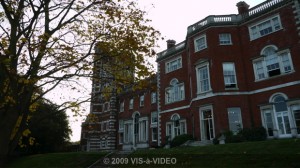 Ines filmed the Civil Partnership of a very close friend – top Wedding Photographer and all round good egg – Neil Bailey.
She has worked with Neil on numerous occasions in the past, and was honoured to be asked to video his Civil Ceremony.
Neil was having a Civil Partnership to his long term partner of 15 years Jan, a mad and eccentric Dutch guy – who seemed to have brought half of Holland with him to the reception.
The ceremony was held outdoors in front of the grand entrance to the Georgian mansion, though there were no clouds and it was sunny, again it was a tad on the chilly side, but I guess this is the time for the 'Autumn Weddings'.
The highlights of the ceremony were the grand entrance of the 'Man in Pink Dress' – you just have to wait for the wedding photos and video – and the release of the white doves – always a tricky one but Ines managed to capture their flight on video.
There was no official Wedding Photographer – think Neil forgot it was his ceremony and spent more time taking photos of the guests than having photos of him and Jan
The guests sat down to the wedding breakfast with the lyrics of Blackadder TV show sung by a medieval string player – with the evening's first dance a mix of classic Frank Sinatra and Dutch hip hop – yep figure that one out 🙂
By 11 pm Ines had finished filming and headed off to the bar to join Neil for a final drink before driving back halfway around the M25.
All in all a very busy weekend, with a wedding video in Surrey, followed by another wedding video in Herts…but when you are on page one of the search engines you will be busy.
This week Ines is filming rehearsals for a theatre show in Leatherhead for 3 days, with the main shows on Saturday, but at least she will have a weekend off afterwards…until it all kicks off again for good in December. Madness.