Claire and Anthony's Wedding at Leez Priory – Essex
This Friday I headed over to Hartford End near Chelmsford in Essex to film the wedding of Claire and Anthony at the beautiful Leez Priory, plus a chance to catch up with one of all time favourite wedding photographers Neil Bailey who is also the recommended photographer at Leez Priory.
The couple had booked my Sapphires and Silk package so today we would be filming for 8 hours.
The drive from Epsom to Chelmsford  had its usual nightmare on the M25, but thanks to my friendly TomTom I managed to keep clear of most of the traffic. Peter made his own way to Leez Priory so it was just a case of meeting up and getting all the cameras and tripods set-up.
Claire wore a stunning wedding dress by Alfred Angelo, a very unusual design with an amazing cobalt blue train encrusted with bling.
She tells me she doesn't like dresses and never wears any, so considering this she managed to look quite regal in her finery.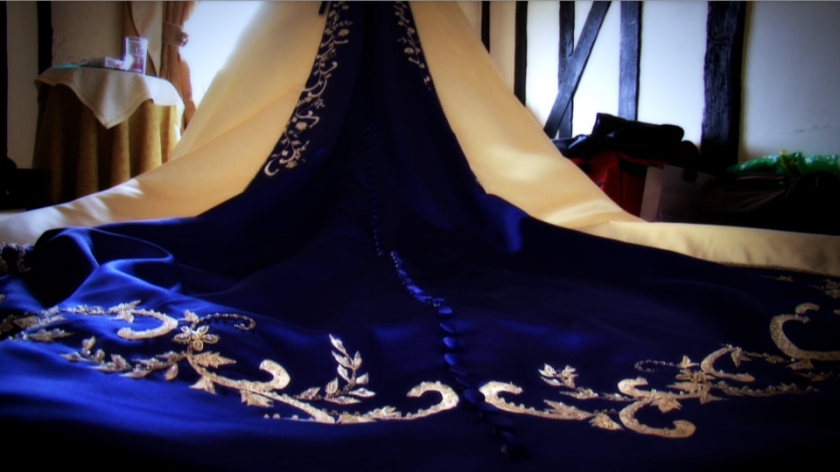 She did, however, have a little something lined up shoe-wise – after the First Dance she was going to change into her favourite footwear – trainers. Although white ones with satin bits on…Here is our Cinderella moment…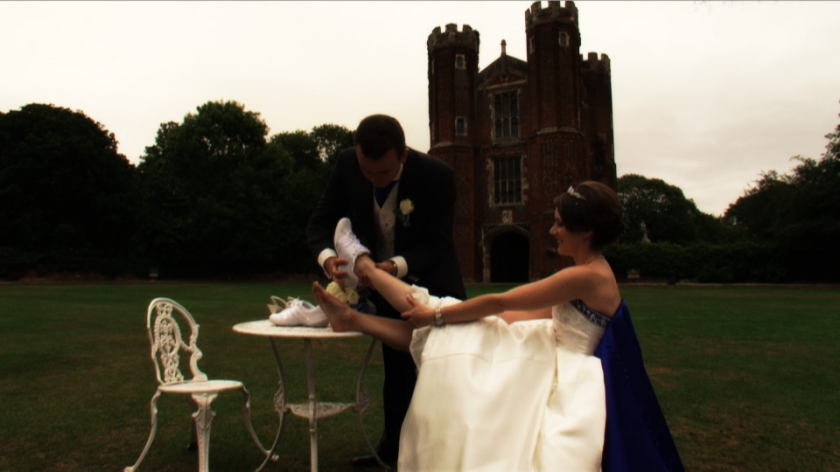 Alfred Angelo are the world's leading maker of wedding gowns and bridesmaid dresses, yet retain the personal touch of a family owned company. Founded in the 1930's by Alfred Angelo Piccione and his wife, Edythe Piccione, today it  is owned by their son and daughter, Vincent and Michele Piccione – read the full story . This is funny, I have an Italian Godfather (a real one!), whose name is Picchioni – co-incidence, I'm sure, but close.
The wedding venue is a  16th century mansion, in the late 1980's, Leez Priory was purchased by its current owners, The Country House Weddings group. In 1995, Leez Priory became the first country house in England to be granted a licence to conduct civil ceremonies, for directions and further information please follow this link
The theme of the day was most definitely 'Blue', which was everywhere from nail polish to sapphires in the engagement ring to chair ribbons and flowers down to tiny crystals in Claire's hair.
Claire and Anthony danced their First Dance under the carriageway, beautifully accompanied by 'Simply Swing', who are recommended at Leez Priory and who are, of course, excellent!
Eventually, it was time to pack up and head off back to Surrey, it was going to be a late night as I had to do a full turn around and recharge all the camera, lights and mic batteries as we were back up to Essex to film a wedding at Gosfield Hall the next day – but that is another day, another blog 🙂
Useful links
While this film still has to be edited, here are the Highlights of a wedding I have filmed at Leez Priory in the past:
Wedding Venues in Essex some links from my blog
Please feel free to contact me for further information or to discuss your own personal wedding requirements