…and move to 'The Other Side'. Of the lens, that is. Earlier this year it was nothing more than a facebook thread, started by wedding photographer Carey Sheffield, initially just to get some advice on posing a few women/ friends together. Soon, it had turned into this big thing and suddenly Carey found herself organising a venue, 11 models/ photographers, a full-on beauty team of make-up artists, hair stylists, stylist, jewellers, flowers and bouquets, lots and lots of dresses and shoes, more behind-the-scenes photographers, a videographer (me!) and two puppies. Yes, puppies. Meet Elvis and Riley, the most adorable bulldog puppies, trying hard to steal the show. (Actually, they didn't have to try very hard)
The idea behind this idea was to give wedding photographers a chance to be the ones 'prettied up' and be in front of the lens just once. And, as ideas go, it was a really good one and I wish one day I will get the chance to do something as amazing as this…wait, let go of MY CAMERA??!! Eeeek!
So, the venue was set – the lovely Wotton House near Dorking, steeped in history and most famously known as the 17th century family residence of botanist and diarist John Evelyn – you have heard of Crabtree & Evelyn, right?! – and a whole crowd of talented people had pledged their support.
There we were, 30 or so women in one room, all of our photographer models being done up in different styles, each to reflect their personalities and ultimately all come together to recreate that famous Annie Leibovitz-Vanity Fair cover look. Of course, Carey pulled it off magnificently, she even managed individual portraits of the girls, and they are featured on Carey's original blog post and also on B.Loved Wedding Blog. She was also great fun on the day and I must say, everybody had THE BEST time – many friendships were built and there was just this warm, buzzy feeling all around. Awww…here's the 'Sneak-Behind-The-Scenes-Peak':
Many Thanks MUST go to all who gave their time and expertise
to make this dream come true:
Carey Sheffield, for having the idea in the first place, dreaming big and making it all happen
www.hoipolloievents.co.uk
The Venue
Michelle O'Rourke
Wotton House
The Beauty Team:
Kaz Fernando, Makeup Artist & Hair Stylist
www.kazfernandomakeup.co.uk
Ana Ospina Ruiz, Make-Up Artist
www.anaospinamakeup.co.uk
Sharon Roberts, Hair Stylist
www.wonderful-hair.co.uk
Tania Stephenson-Oliver, Make Up Artist
www.tsobridalbeauty.co.uk
Joyce Connor, Make Up Artist
www.bridesandbeauty.co.uk
Hayley King, Hair Stylist
www.bridesandbeauty.co.uk
Jennifer Knipp, Make Up & Hair Stylist
www.jenniferknipp.com
Stylist & Wedding Coordinator
Alexandria Peploe
www.postscriptevents.co.uk
The Dresses
Charlotte Emile Hardwick
Wilden Bride
Sinclair Sellars
Maids To Measure
Amanda at Encore
Natalie, Paula & Gwen
at No 10 Farnham (MadelineIssacJames)
Vintage Head Piece Items
Vicky Mallinson
Victoria Mary Vintage
Jewellery
Tom French Ascot
Flowers & Bouquets
Gwenda Jeffs
The Vintage Floral Design Company
Emma Lyth
BeauButtons
Photography
Main Image and Head Shots
Carey Sheffield Photography
Behind the Scenes & Details
Cristina Rossi
Bulldogs
Tina Lundie with Elvis & Riley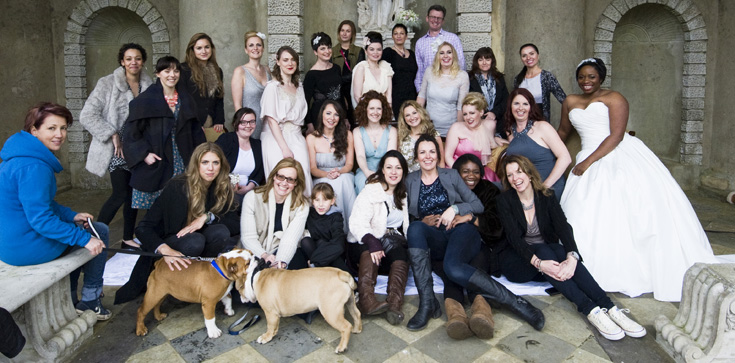 Image ©Carey Sheffield